Treat yourself to a custom Mystic Spray Tan today!
Sunless tanning has become the choice of many as a reliable, fast and effective alternative to UV tanning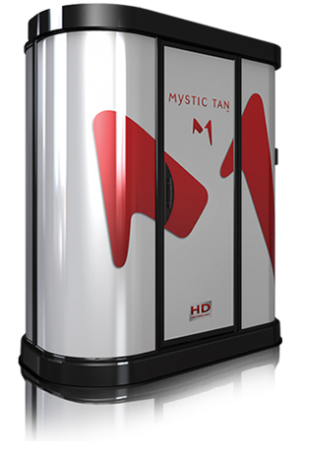 Relax N Tan offers state of the art sunless tanning with our Mystic Tan HD Automatic Spray Tan booth.  A revolutionary, heated sunless treatment that delivers flawless natural-looking results in minutes, while keeping you warm and dry from start to finish.  The Mystic Spray Tan uses advanced technology with a nozzle designed for the most evenly applied and consistent coverage for all body shapes and sizes.  Just push the button to activate your session and an automatic voice will guide you through the entire process which only takes a few minutes.  The Mystic Tan utilizes personal single use cartridges and additives that can be blended to create the perfect combination for all skin types and desired results.
Equipped with HD Technology
HD Technology adds heat to your spray tanning experience, plus an added drying feature during the application process. Heating conditions the skin for maximum absorption and provides a more inviting experience.
Customize your colour perfectly
All cartridges contain a fragrance-free, bronzer-free clear spray tan solution.  Our friendly and fully certified staff will help you choose a colour to perfectly suit your skin tone.  Spray tan levels are available in light, medium or dark.
Gluten Free
Paraben Free
Cruelty Free
Non-Comedogenic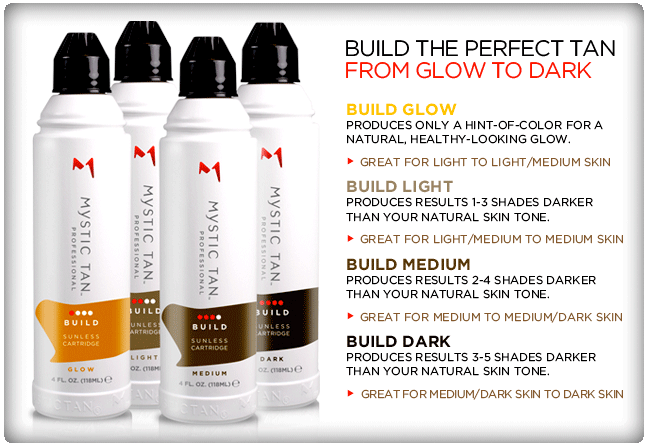 Choose your add-ons to create your signature tan!

Balances skin's pH levels to produce results in half the time.  Show off your tan in as little as 2 hours.  Also helps hydrate and moisturize the skin.


Turn heads with instant colour while an extended spray tan develops in 4 to 8 hours.  Bronzers are available in single or triple shades.
Single Bronzer: up to 3 shades darker than your natural skin tone.
Triple Bronzer: up to 5 shades darker than your natural skin tone.


Add an aroma to your spray tan session, leaving your skin with a light and refreshing fragrance.
Frequently Asked Questions
What is Sunless Spray Tanning?
Sunless spray tanning is the spray/mist application of Sunless tanning solution to your body.  When applied, DHA (the active ingredient in Sunless tanning solution) reacts with the proteins in the skin's superficial layer to form a golden brown colour.  Your skin begins to darken two to three hours after application and reaches its peak colour within 24 hours.  The colour will gradually fade through natural exfoliation, just like a tan from the sun.
How should I prepare for my Sunless Spray Tanning Session?
Exfoliate and shave the day before or the day of the sunless spray tanning session (day before is preferred).  The day of the Sunless spray tanning session refrain from using moisturizers, perfumes, lotions, oils or deodorants that may create a barrier between the skin and the Sunless tanning solution.  You may resume using these after your first shower or bath.
How long should I wait after a session before showering?
To give the DHA enough time to fully set, it is recommended to wait a minimum of 4 hours after a sunless spray tanning session or 8 hours for optimal results.  Showering sooner may diminish the intensity of the tan.  If you use an Instant Cosmetic Bronzer, the Instant Cosmetic Colour will wash off in the shower, but the colour produced by the DHA will remain.
How long does Sunless Spray Tanning last?
A Sunless Spray Tan can last up to 7 days depending on the formulation you choose and the condition of your skin.
Will my skin look orange?
No.  The advanced technology currently used in sunless tanning solutions is designed to ensure a natural, bronze tan.  The salon consultant can help you select the proper level of tanning solution to best match your skin tone.
Will swimming affect my tan?
Swimming in chlorinated water or salt water can fade the Sunless Spray Tanning results, cause possible streaking and will diminish the length of your tan.  However, normal activities such as bathing, showering or physical activities will not affect the quality of the tan.
Does Sunless Spray Tanning Solution have any smell after contact with my skin?
Mystic Tan sunless spray tanning solution use a breakthrough odor control technology designed to virtually eliminate the odor that may be present when the solution interacts with the skin.
Will the bronzing formula stain my clothing?
No, the sunless spray tanning solution which includes a cosmetic bronzer is water soluble and will be removed after the next wash in cold water.  However, in some instances, the DHA in the tanning solution may permanently stain undergarments worn during the spray session.
Is Sunless Spray Tanning Solution recommended for people with skin sensitivities or allergies?
This product is safe, however, for those with skin sensitivities or allergies, it is recommended to consult a health care professional before using the product.
What happens if Sunless Spray Tanning solution gets in the eyes?
FDA recommends that DHA not be used in the eyes or surrounding area.  Protective eyewear is recommended and will be supplied.  If eyes feel irritated, gently splash with water.  For additional questions or if irritation persists, consult a health care professional.
Are there ways to enhance the Sunless Spray Tanning results?
Yes, all Mystic Tan in-home products are created to enhance and extend Professional Sunless Spray Tanning results.  Over the counter products are not formulated for Sunless Tanning.  They may block the tan's application, impede the development process, and create uneven post-tan fading.