We carry the best of the following brands:
Using our indoor tanning lotions is beneficial to the tanning process for these reasons:
Hydration
It is necessary that skin be hydrated sufficiently to reach and maintain the desired tan.  Dry, neglected skin reflects UV light, not allowing it to tan underneath.  It also exfoliates faster, causing the tan to fade quickly.
Nutrition
The natural vitamins in many of our lotions are fundamental to the skin's appearance and to its ability to tan.  Along with other hydrating properties, these vitamins replenish the necessary nutrition to skin, promoting cell regeneration and oxygenation for greatly improved tanning results.
Oxygenation
Oxygen fuels all skin cell functions, thereby accelerating the tanning process.  A good lotion containing vitamins and botanical oil formulas help achieve deep oxygenation to stimulate melanin production for the best tan possible.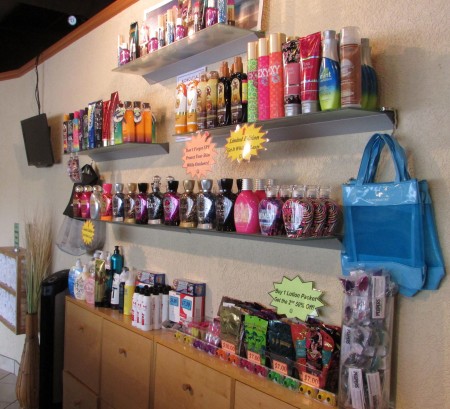 Bottom line is using a tanning lotion is an essential element to achieving the deepest, darkest, longest lasting tan possible!  And the best part is our lotions have an immense amount of skin care ingredients in them.  We carry the largest selection of tanning lotions and skincare products – whether you are looking for a lotion that is hypoallergenic, gluten free, paraben free or tattoo protection, we have it all!
We offer a complete line of instant sunless lotions and sprays to give you a beautiful natural tan as soon as you use the product.  These products will also blend unevenly tanned areas and enrich the colour of your tan.  And for your vacation needs, we carry a full range of SPF products to protect your skin while outdoors.  Visit our salon to view our complete product selection.  We offer a wide variety of price points to suit your budget and discounts are available with most tanning packages!
Tanning products can be classified by different types described below:
Accelerating Lotions
Great hydration for your skin
Bronzer-free
Works with the melanin in your skin to develop your tan naturally
Ideal for fair skin or beginner tanners
Bronzing Lotions
Deepens skin tone by using natural (immediate) and delayed (DHA) bronzers
Helps enhance and darken your tan
Works to give you a healthy glow
Better skin care ingredients
Extends the colour of your tan
Tingle Lotions
Increases blood flow and oxygenation which will deepen your tan to a new level
Can cause tingling/reddening to your skin and heat on the surface of your skin
Ideal for experienced tanners
Not recommended for sensitive skin or to use on your face
Coolant Lotions
Gives you a cooling sensation and feels refreshing
Cools you down faster after a tanning session
Has exhilarating cooling agents that refresh and soothe your skin
Facial Lotions
Specifically designed for sensitive facial skin
Combines lush hydrating anti-aging ingredients and minimizes pores
Dual product – can be used at home underneath makeup and as a tanning product
Tan Extending Moisturizers
Provides your skin with the vital nutrients and moisture it needs after tanning
Hydrates, conditions and soothes skin for soft and supple skin
Designed to help prevent your colour from fading
Promotes younger looking skin with added vitamins
Now carrying the newest Twilight Teeth P6 Whitening Kit!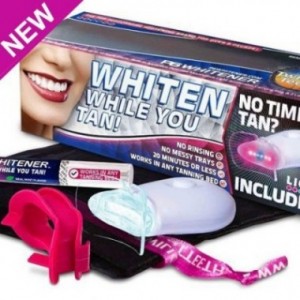 Twilight Teeth's patented No Rinse Process P6 Whitening Gel was the first on the market to bring you the same whitening process used in dental offices, but in a special kit, complete with a small, comfortable mouthpiece and a simple application process with an enjoyable mint flavor.  Works in any tanning bed and even at home!
There is no need to spend another dollar on expensive teeth whitening at your dentist or messy pastes and films at the drug store.  Each Twilight Teeth kit gives you up to 12 applications and is guaranteed to deliver whitening results superior to any over the counter product you can buy!
No time to tan?
Twilight Teeth, the original "Whiten While You Tan" system, now comes complete with the P6 Whitening Light!  This powerful little light makes using the P6 Whitener convenient to use for touch ups or on the go.  Giving you whiter teeth in just 20 minutes!